Athletes energized by competition, teammates
This year, Joshua Burch thought, 'Why not?!'
After three years of doing the same 1A division in the National Veterans Wheelchair Games' (NVWG) obstacle course known as "slalom," the 26-year-old old Marine Corps veteran upped his game. Burch moved up a division and took on a harder course Sunday morning inside the Metropolitan Ballroom of the Sheraton New York Times Square Hotel in downtown New York City.
"There's a lot more wheelies and higher elevation things. I've been doing really well," says Burch, who sustained a level C7 complete spinal-cord injury (SCI) in service in 2015 in Guam. "I just wanted to try it out. I think I did pretty well."
Behind a small crowd cheering him on, Burch earned a gold medal in the 1B division, finishing in 1 minute, 25 seconds during the second day of the weeklong event. It wasn't like the big crowds and loud experience he's used to when competing in the obstacle course, but it was still enough.
"I'm just happy to be back," says Burch, adding that the hardest part was the obstacle where he had to wheelie over different bar heights. "I wish it was both [groups of athletes], I guess, all 600 people. But it's nice just to be back doing things again."
Wheelchair veterans were back to doing plenty during Sunday's second day, which featured all of its events inside the Sheraton.
Athletes competed in adaptive fitness, 9-ball billiards, a para badminton exhibition, the obstacle course known as slalom, table tennis, boccia ball, power soccer and powerlifting.
Power soccer held its championship that evening in that same Metropolitan Ballroom. That title game turned out to have a frenetic finish.
Despite trailing by three goals midway through the first half and two goals at halftime, New Orleans rallied for a 4-3 overtime victory over Dallas.
New Orleans tied the game with 4 minutes and 23 seconds remaining left in regulation, and both teams stayed tied to send the game into overtime, which featured two 5-minute periods.
Just 15 seconds into the first overtime, New Orleans' Julian Perez scored on a direct free kick after a Dallas miscommunication in goal. New Orleans held off Dallas' host of scoring opportunities the rest of the way.
A Marine Corps veteran and Hemet, Calif., resident, Perez has won power soccer gold medals at each of the last three in-person NVWG.
"But most of all, what was more great was to see all my friends out here competing and the new guys to get them started, to give them a gold medal in their first year, that's fantastic. That's what it's all about," says Perez, who had his right leg amputated in 2013 after developing Charcot foot, a progressive condition that involves the gradual weakening of bones, joints and soft tissues of the foot or ankle.
Army veteran and Perez' teammate, 51-year-old Lee Harris, agreed.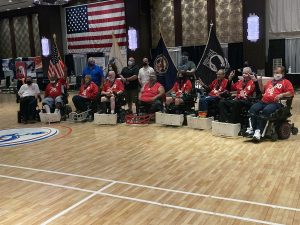 Just four days before he turned 20, Harris sustained a level C6 SCI Oct. 1, 1989, in a car accident in Fayetteville, N.C. He's been playing wheelchair sports a long time — and he understands the impact they can have on people. He's competitive, but he wants to help others succeed at power soccer, too. So, he helps how he can.
" 'Cause there's a lot of them that this is their first time playing. And I like just giving them, you know, I actually probably didn't do a whole lot in this game, but a lot of times I'll give them the ball where they can drive it down. I did with a few of them. I told a few of them, 'Go ahead and take it' — some of them who hadn't had a lot of experience," Harris says. "Some of them may not be as fast, but it inspires me just to see them get out there, play and 'cause we're all out here to do it."