Disc golf scores big with wheelchair veteran athletes
Discs were flying inside the Bell Bank Park Legacy Hall C in Mesa, Ariz., Tuesday morning, as the final day of the National Veterans Wheelchair Games (NVWG) commenced with disc golf, along with wheelchair softball, field events, wheelchair basketball, obstacle course known as slalom, wheelchair rugby and power soccer.
Paralyzed Veterans of America New England Chapter member Mark Sanders looked like a pro as he made his way around the seven-hole, par-21 course that was lined with small plants and fake cactuses that acted as barriers.
Having only played the game once before at last year's NVWG in New York, when disc golf made its debut as an exhibition sport, Sanders, a Marine Corps veteran who served from 1980 to 1984, quickly found a rhythm and ended up six under par.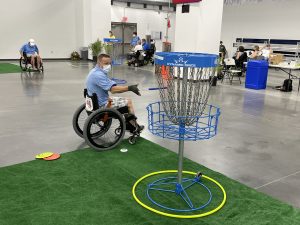 Sanders says being in a gym made it so the wind wasn't a factor, and playing on pavement instead of grass made it less exhausting to wheel up to the baskets and tees.
"My first time was last year, and it was outdoors, and it was a little harder, especially getting around," the 63-year-old Plymouth, Mass., resident says. "This year, I liked it indoors because you could pay attention and it was a little bit easier, I would say. I was surprised how good I did."
Sanders, who sustained a level T8 spinal-cord injury after being hit by a truck while serving in 1983, started coming to the Games in 1987, then took a break to spend time with his family until returning in 2000. He has competed in every NVWG since.
He was also pleasantly surprised that he improved his score from even par at last year's Games. He says the fourth hole was the most challenging because players had to throw the disc to the right of a fake cactus and then angle it upwards to a raised basket.
"When I threw it, I'd try to keep it low and short with it because the first couple I threw it, and it started to roll around. It almost rolled in the first two, but then the third one rolled and it hit something," Sanders says. "That's the one that it took me three to get it in. So, I changed my focus and started to just roll and hit right straight on it and try to get it in two [throws]."
He says he didn't really have a strategy, but he happened to have two experienced disc golf players, Chris Britt and Patrick Gray, as scorekeepers.
"They were giving me little tips to help," Sanders says. "He [Gray] was telling me to stay focused, be careful, don't shoot it too far, it could roll away. There were a couple out-of-bounds situations that they informed me about … They made me look like I know what I'm doing, even though I didn't."
He says he's played traditional golf before using an adaptive golf cart, but he enjoyed disc golf more.
"Because I liked playing frisbee when I was younger, it's a lot more fun," Sanders says. "And as I play, I get more confidence. So, I really enjoy that aspect of it. Golf, I like golf … but I mostly liked driving the [golf cart] around. This one was a lot of fun."
PVA Minnesota Chapter Chapter member Linda Hooker also enjoyed disc golf better than traditional golf.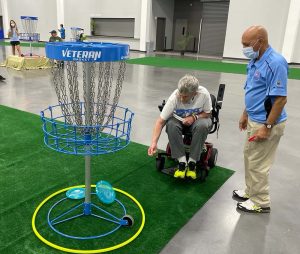 "I can do this a heck of a lot better than regular golf," the 59-year-old Zimmerman, Minn., resident says.
Hooker, who served in the Air Force from 1981 to 1996, has multiple sclerosis and scored a 27 in her first disc golf competition.
She thought it was more of a camaraderie with than a competition against her disc golf partner, and she was happy to play indoors — not in Tuesday's brutal 112-degree Phoenix-area heat.
She also competed in boccia, motor rally, air rifle, motorized obstacle course known as slalom, bowling and wheelchair curling in her first NVWG.
"Just trying to do more things that I can do, just trying different sports. Trying to get more people to do stuff and just trying to get more people involved," she says. "Ironically, I've lived in Minnesota for 21 and a half years now," she says. "I had to come to Tempe [Ariz.] to try curling, and there's curling rinks all over Minnesota. That was a blast, too."